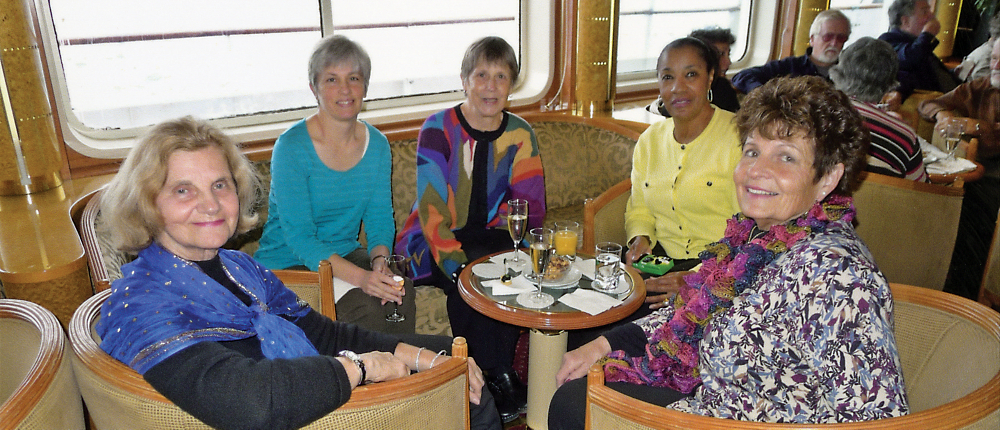 Solo woman traveler finds unforgettable beauty and adventure on the seventh continent
by Carley Thornell, for Grand Circle
Until winter of 2012, Corine Freeman, a first-time traveler from McDonough, Georgia, had two continents to check off on her world list: South America and Antarctica.
"I didn't even know I could go there," she said of the seventh continent. But Corine soon discovered that Grand Circle could get here there, and that they would treat her well as a solo traveler. "And that was the truth. Some people say, 'Girl, you've got a lot of nerve going to place like that by yourself.' I think we are here for a purpose, and we're supposed to go where we're supposed to go without fear, or hesitation."
And although she was aware that the turbulent Drake Passage at times provides challenges—and excitement—all its own, Corine said the rewards were worth it.
"There's nothing else that compares to the beauty of Antarctica. That trip just stands up by itself. It stands alone. You'll never be able to find any other like it. It's just so beautiful. It's something you'll never forget."
Corine and her fellow travelers were able to explore what they saw from their portholes each morning on daily shore excursions—and getting to land was one of the most memorable parts of her adventures. "I loved those Zodiacs—it's really exhilarating. My daughter and I had looked at the video on the Internet of the trip, and she said, 'Mom, are you going to get on one of those things?' and I said, 'I'll try it at least one time.' You could tell the guys driving it really enjoyed it too!" As it turned out, the rafts' small size made her feel quite secure.
Corine was also impressed by her Trip Leader Berna. "He was so sweet, and I've traveled a lot. He was the best guide I've had."
As a solo traveler, Berna made Corine feel right at home. But it was also her fellow travelers that made her Antarctic experience a trip she'd never forget. "Everywhere I go, I make friends with other single people. But all of the couples are always willing to share a table with you at dinner. A lot of women will not travel by themselves, because they feel that if they don't take someone with them, they'll be alone. I always tell them, 'That is not true!' Everyone on the ship was great, right down to the housekeeper."
As for the next time she boards a plane, Corine said she will likely be heading back to Italy—though the seventh continent has left an indelible impression on her. "When we would go onshore and stand there and see nothing but ice. It looked like someone had created a work of art."