Forgot Your Username
If you have forgotten your username, please provide your email address in the box below. We'll send you an email with your requested username. If you are having trouble, please call us toll-free at 1-800-221-0814.
Email Sent
You'll receive an email in a few minutes. Please check this email to find your requested username.
If you do not receive an email or you are having trouble logging into My Account, please call us at 1-800-221-0814.
India: Chennai, Mahabalipuram, Thanjavur, Madurai, Periyar, Kerala's backwaters, Cochin
18 Days from only $3795 including international airfare
SPECIAL OFFER
View details
FROM
$3795
18 DAYS
$211/DAY
including international airfare
17 DAYS FROM $2595 Small Group Adventure Only
New! Stopover in Dubai

3 nights from only $595
Single Supplement: $295
Post-trip: Rajasthan: Udaipur & Jodhpur
7 nights from: $1895 Single Supplement: FREE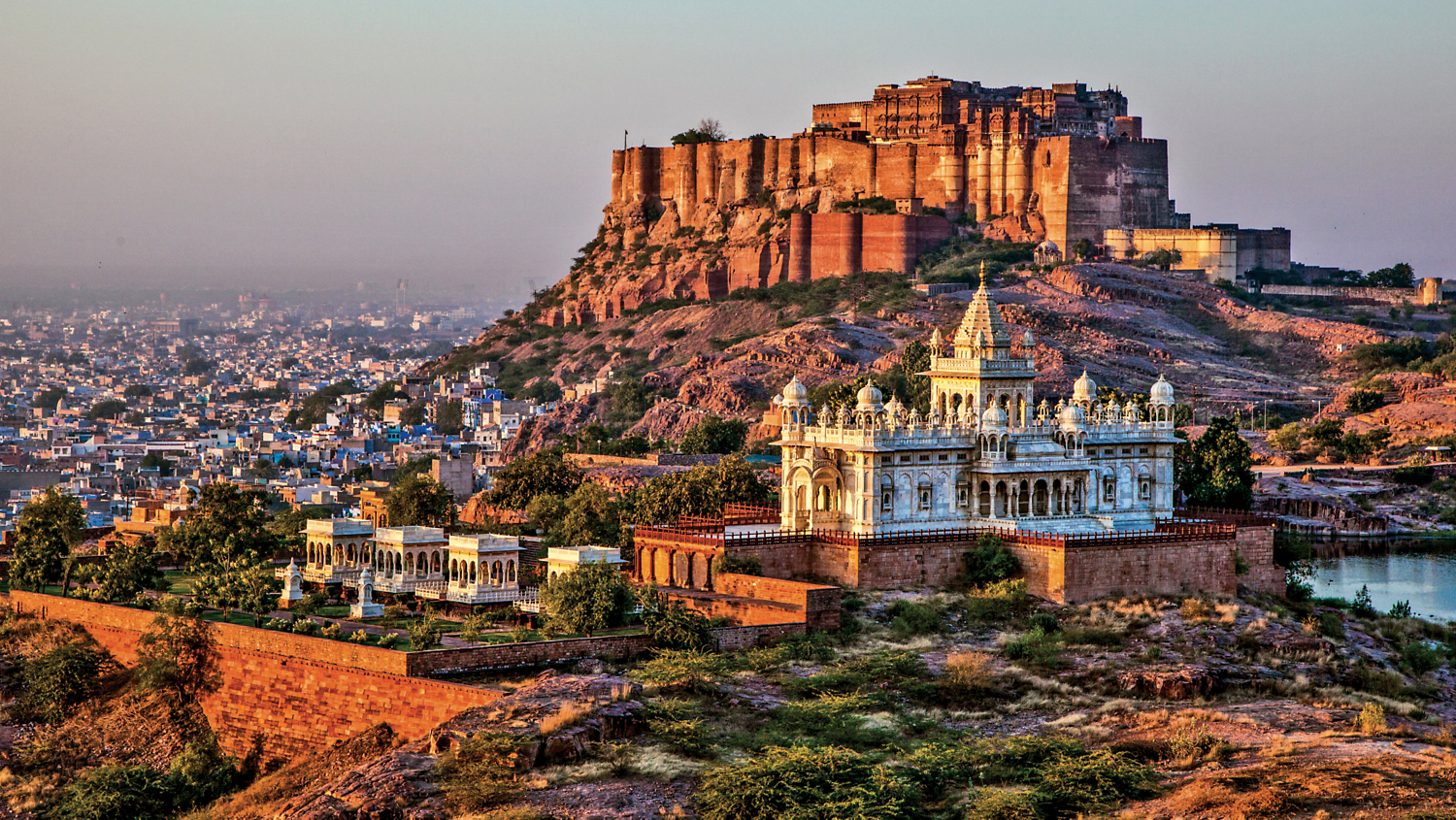 Nestled among the fairytale landscapes and sweeping desert vistas of Rajasthan—India's legendary Land of Kings—are two of the country's most spellbinding destinations. We invite you to unveil the romantic allure of Udaipur and the blue-tinged magic of Jodhpur to discover how these cities captured the hearts of India's mighty maharajas.
It's Included:

Airfare from Cochin to Delhi, Delhi to Udaipur, and Jodhpur to Delhi
Accommodations for 2 nights in Delhi, 2 nights in Udaipur, and 3 nights in Jodhpur
14 meals—7 breakfasts, 2 lunches, and 5 dinners
6 small group activities
Services of a local O.A.T. Trip Leader
Gratuities for local guides, drivers, and luggage porters
All transfers
Day 1

Fly to Delhi • Explore Delhi

Early this morning, transfer to the airport in Cochin for your flight to Delhi, India's bustling capital. Even when Bombay and Madras were mere trading posts and Calcutta a village of mud huts, Delhi had been the seat of an empire for 500 years. Through the centuries, eight cities have been built on this site by Hindu, Mughal, and British rulers—with each adding their own flavor.

When we arrive in Delhi, you'll have time for lunch on your own. Then we'll embark on a city tour, beginning with the UNESCO World Heritage Site of Qutab Minar. This massive red sandstone tower is an impressive 234 feet tall, and was built in 1202 to celebrate Muslim dominance of Delhi. Today, it is still one of Delhi's best-known landmarks. We'll also explore the area of Old Delhi, which was once the city of Shahjahanabad, built by (as its name suggests) Moghul emperor Shah Jahan.

Tonight, we'll have dinner at a local restaurant.

Day 2

Fly to Udaipur • Boat ride on Lake Pichola

This morning, we'll transfer to the airport for our flight to Udaipur—a city that British East India Company officer James Tod once described as the "most romantic spot on the continent of India." Since Tod's time, Udaipur has grown into one of the largest cities in Rajasthan, while still showcasing its legendary charm with shimmering Lake Pichola, fairy-tale palaces, bustling bazaars, and a breathtaking location in the rolling Aravalli Hills. In fact, it is this old-world allure that gave Udaipur its nickname of the "Venice of the East."

When we arrive in Udaipur, we'll check in to our hotel before exploring the city's natural beauty for ourselves, beginning with a boat ride on Lake Pichola. In the 16th century, the magnificence of the lake captivated Maharana Udai Singh II, who eventually decided to move the capital of Mewar from Chittorgarh to its scenic shores, giving rise to the city of Udaipur. Udai Singh later ordered that the lake be widened, while also building his illustrious City Palace along its sparkling waters—a stunning site that we'll see today. We'll also view Lake Pichola's two island palaces—one of which was reportedly Shah Jahan's model for the iconic Taj Mahal.

After our boat ride, we'll enjoy dinner together at a local restaurant.

After breakfast, we'll embark on a tour of Udaipur, beginning with a closer look at the City Palace—the largest royal complex in Rajasthan. While the palace was originally built by Maharana Udai Singh II, the maharanas who followed added their own touches over a 300-year period, creating a towering conglomeration of structures—11 of which are considered mahals, or palaces, in their own right. We'll learn more about the palace's history—and the lives of the maharanas who lived here—by exploring the City Palace Museum, which is elaborately decorated with paintings, mosaics, and stained glass.

Later, we'll visit the ornate 17th-century Jagdish Temple, the oldest Hindu temple in Udaipur. We'll admire the intricate carvings on the temple—which is dedicated to Jagdish, an incarnation of Vishnu—before departing for Saheliyon-ki-Bari, or "the garden of the maids of honor." This lovely 18th-century garden was built as a shady retreat for the 48 female attendants that Mewar ruler Sangram Singh II received as part of a princess's dowry—and we'll indulge in its beauty as we admire its fountains, lotus pools, and lush flora. We'll cap off our city tour by visiting the Maharana Pratap Memorial, featuring a life-sized statue of the maharana—who helped defend the city from the Muslims in the 16th century—atop his favorite horse.

We'll return to our hotel for some time at leisure before diving into daily life in Udaipur by visiting a local market. Tonight, we'll enjoy another cultural experience as we sample a traditional Rajasthani thali—a platter filled with a variety of local specialties—at an included dinner.

Day 4

Overland to Jodhpur • Visit Ranakpur

This morning, we'll depart Udaipur and drive north to Jodhpur. En route, we'll stop at Ranakpur—one of the largest and most important Jain temple complexes in India, hidden in the remote shadow of a wooded valley. While the complex features four temples, the 15th-century Chaumukha (or "Four-Faced") Temple is the most impressive. This massive temple—dedicated to Adinath, the first Jain tirthankara, or teacher—contains 29 halls, 80 domes, and 1,444 pillars so elaborately carved that no two are the same.

We'll have lunch at a local restaurant before continuing on to Jodhpur—the so-called "Blue City" on the eastern edge of Rajasthan's Thar Desert. As we'll learn, Jodhpur has certainly earned its nickname, as most of the color-washed homes in its old city exude a romantic blue glow—a hue that once marked the home of a Brahmin. This azure sea of houses is surrounded by a six-mile-long, 16th-century wall that keeps out the harsh desert sands—although the city now extends well beyond the wall's limits. As we'll learn during our time here, Jodhpur—the second-largest city in Rajasthan—was the capital of the state of Marwar for five centuries. The city was originally founded by (and named after) Rao Jodha, chief of the mighty Rathore clan, which is said to trace its lineage back to Lord Rama, a revered Hindu deity.

We'll arrive in the Blue City this evening and check in to our hotel. Dinner is on your own tonight.

Day 5

Explore Jodhpur • Camel ride in the Thar Desert

Today, we'll explore one of Jodhpur's most spectacular sights: the lavish Mehrangarh Fort, which overlooks the Blue City from its perch on a towering sandstone outcrop. The fort itself was built from chiseled pieces of its sandstone base, creating an image that Rudyard Kipling once described as "the work of angels, fairies, and giants."

After witnessing the grandeur of Mehrangarh Fort, we'll visit Jaswant Thada—an elegant marble cenotaph dedicated to Maharaja Jaswant Singh II, whose irrigation plans brought prosperity to this otherwise dry region. Today, many locals visit the memorial to offer prayers and flowers to the deceased maharaja—as well as to indulge in what is said to be the best view of Mehrangarh Fort. Later, we'll stroll through the lovely Mandore Gardens, set on the former cremation grounds of Rathore rulers. We'll view the gardens' red sandstone cenotaphs and perhaps have a chance to meet their most famous residents: the playful langurs, or black-faced monkeys.

You'll have some time to relax at our hotel this afternoon and enjoy lunch on your own. This evening, we'll travel north of Jodhpur to the desert town of Osian—a bustling trading hub between the 8th and 12th centuries. Here, we'll enjoy a camel ride through the sandy Thar Desert, watching the sun set behind its rolling dunes.

We'll have dinner at a desert camp before returning to our hotel for the night.

Day 6

Jeep safari in rural Rajasthan • Explore a Jodhpur bazaar

Today, we'll leave the city behind as we indulge in a unique glimpse of life in rural Rajasthan on a Jeep safari. Our Jeeps will take us to several remote Bishnoi villages to meet the members of this socio-religious Hindu sect. As we'll learn, the Bishnoi people are known for their love of nature, believing that the life of a plant or animal is as important as that of a human being. In fact, in one famous instance in 1730, more than 360 Bishnoi villagers sacrificed themselves to save a small grove of khejri trees. As we explore these Bishnoi villages, we'll have a chance to learn more about their culture by witnessing an opium ceremony, in which opium is dissolved in water that is then strained and drunk from the hands. We may also have a chance to spot local wildlife, perhaps including nilgai, antelopes, and gazelles.

We'll return to Jodhpur for lunch at a local restaurant. Later, we'll explore one of the city's colorful bazaars. Dinner is on your own tonight.

We'll have this morning free to eat breakfast and relax at our hotel. This afternoon, we'll transfer to the airport for our flight to Delhi.

Very early this morning, you'll transfer to the airport for your flight to the U.S. via Dubai.
Please note: If you make your own international air arrangements, your extension price will increase due to internal air transportation. This extension may not be available on all departures. Ask our Adventure Specialists for details. Call 1-800-955-1925.